A gorgeous inspiration shoot I did with my friends at Orange Blossom Photography has just been featured on Style Me Pretty! For all the brides-to-be looking for beautiful engagement party ideas,  a full gallery of images are here.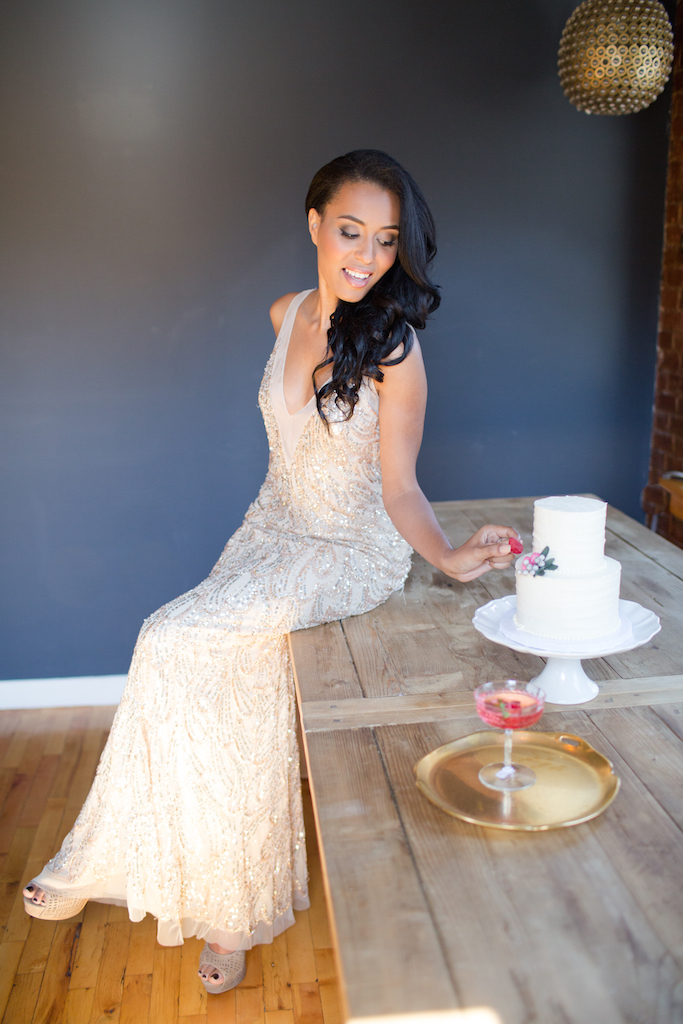 Photography: Orange Blossom Photography LLC | Cake: Amy At Sugar Flower Cake Shop | Stationery:The Printery | Hair & Makeup: Stacey Weinstein | Event Venue: The Kitchen Table NYC | Table Ware:Good Light Props
On Style Me Pretty, Julieanne Prevete of Orange Blossom Photography writes: This photo shoot will inspire you to bring the charming simplicity of a garden indoors to your table for an intimate engagement party. We took a few style cues from The Great Gatsby with our gold dress choice, and the styling of our drinks. We did a dress change to show an even more light and feminine option.
We focused on the details of showing this new space in New York as an enchanted, yet glamorous, place for a bride-to-be to host an intimate engagement party. We wanted to take the rustic element of the reclaimed wooden table and chairs, and show how you can make it feminine and glamorous. We used elements of gold and textured one-of-a-kind dishes trays and chargers to bring this space to life. We used pale peach flowers and bold bright pink flowers to add femininity to the rustic and masculine space.
The green floral garland running down the length of the table was a key element in the table design by Judy. It softens the space. We decided to create another dimension to the table by making the hanging garland above the table. It really brings the outdoors in. We like the idea of hanging garland instead of building large arrangements on a table which make it harder for people to talk across a table. This helps the environment stay intimate, yet visually interesting. The slice of cake is styled with blackberries to further show the idea of a delicate and pretty environment. Small plates of bite sized food are featured so you can see another aspect of delicate and detail oriented food styling that Judy Kim can do for you at The Kitchen Table NYC.
All of the delicate florals were hand created by Judy Kim, of the Judy Lab. She was also the amazing food stylist. Our two glamorous dresses are by Lovely Bride in Tribecca. Our beautiful and petite delicious cake was created by Amy, owner at the Sugar Flower Cake Shop in Manhattan. Our amazing models hair and makeup look was stunningly created by Stacey Weinstein and her team at Once Upon A Bride. Our classic stationery was custom made by Supattra Samanyaphon of The Printery in Oyster Bay, Long Island.
The Kitchen Table NYC, features an intimate space where you hire your own chef to prepare a custom meal or hours d'oeuvres for your guests. Our goal was to make the space feel enchanted and feminine and bring the outdoors in.