We love July, as our summer brides get ready to walk down the aisle. And at Once Upon A Bride's home base, Loft 26 salon, we're also busy getting girls ready for all the parties and events going on around the city.
Learn to style your hair like a pro
If you're about to head off on vacation or your honeymoon and wish that you could re-create all your favorite hair styles even when you are far from your salon, Stacey is available for private one-on-one sessions. Whether you want to learn how to create your favorite celebrity style, do the perfect blowdry, achieve beachy waves, or do a quick but professional-looking updo for a night out, Stacey or Angela will break it down into simple steps for you. Learn which products are best for your hair type, and which tools to use and why. Each session is 1 hour long, personalized according to what you want to learn, and takes place at Loft 26 salon. Leave with a goody bag of products, notes, and step-by-step photos of the lesson.
Stacey: $100 for 1-hour lesson
Angela: $75 for 1-hour lesson
Featured Product: Rough Luxury Soft Molding Paste by Oribe
Oribe products are flying off our shelves this summer. Many of you are popping in just to get Oribe at 10% off, and it's always a pleasure to see you. Keep coming in and enjoying the free samples with products! This month we're offering a 10% discount on the ultra-pliable molding paste Rough Luxury. It smoothly slips through hair before taking hold for definition, texture, and shine, lending a soft touch to short cuts and long layers alike.
July Special: $20 discount
Hope you had an awesome July 4th! We've declared the rest of the month a celebration, too, by offering  $20 off your next visit to Stacey's salon, Loft 26. Just mention "JULY SPECIAL" when you book. Call 212.414.2626.
Stacey's News
Hot new social media site Archetype Me featured Stacey's advice on the latest hair and makeup trends and tips for brides, wedding parties, and guests. For all the site's "Fashionistas," Stacey shared the lowdown on the big bridal look of the moment, braids, retro glamour à la The Great Gatsby, the latest in hair accessories, and the hair styling essentials you simply must have in your evening bag this summer. Check it out at Archetype Me.
Happy Hour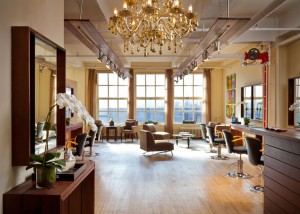 Summer has really only just begun, and Happy Hour is still going strong. Come get a sexy blowout or have gorgeous makeup done for your night out. Bring a friend and sip Skinnygirl cocktails while our professional hair and makeup artists pamper you.
July through August, Tuesday to Friday
4pm to 7pm
Price for each service: $40